Features
Commentary :: Activism
Along Baltimore City's Peace Path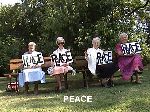 On 09/11/05, demonstrators in Baltimore City turned out to protest rabid militarism and the Iraqi War. If this action also leads political hack, Sen. Barbara A. Mikulski (D-MD), to speak out against the Iraqi War and to stop funding it, it will be a huge success! Her priority has been to give tens of billions of taxpayers' money to Israel, while the Chesapeake Bay is dying from "dead zones," and the levees at N.O. were in desperate need of repairs.
More... (4 comments)
Commentary :: Environment
The Ehrlich Report
A look at the political lessons learned from Katarina.
Announcement :: Activism
Help Support The Vicitms of Hurricane Katrina
Hurricane Katrina's destructive force has displaced hundreds of thousands of people and left them with little more than what they have on their backs. The Baltimore Free Store is collecting donations of clothes, shoes, toiletries, diapers, soap, toys, games, personal care items, feminine care items, new undergarments, bags and suitcases, and household items to help relieve a bit of the suffering. We will be delivering the items to refugees who will be relocated to the Maryland/DC area. Please take a look around and see if there are items you do not need that others could put to use. In times of great suffering it is important that we come together to help one another by sharing our resources and providing our skills where we can.
The Baltimore Free Store is an all-volunteer organization that takes donated and salvaged items and provides them to people for FREE. We target no to low-income individuals but do not deny anyone free items. Where as we normally target Baltimore City residents through rotating 'set ups', we are doing this special project as our way to help in the wake of this horrible disaster. When governments fail it is up to people like you and me to take up the slack.
We do this as a way to highlight and cut back on the amount of waste we produce in our society, encourage reuse/recycling, promote a gift economy, and help alleviate the traumas of poverty.
More... (3 comments)
Commentary :: Civil & Human Rights
The Ehrlich Report
A regular column of political analysis. The subject this month is race/ethnic discrimination
More... (4 comments)
News :: Baltimore MD : Culture : Economy
A New Village is Converging on St. Paul
This article provides an update on The Village Food Coop, located on St. Paul between 24th & 25th. If you were thinking of supporting the Coop, now is the time.
More... (2 comments)
Commentary :: Activism
Christopher Hitchens Smears Cindy Sheehan
Cindy Sheehan's gallant anti-War vigil outside of the ranch of our half-demented President, George W. Bush, Jr., in Crawford Texas, is drawing massive support from around the country. It is also attracting pro-war snakes, like that former "Nation" magazine ranter, Christopher Hitchens. A Brit, who comes across as an insufferable Tory, he accused Sheehan of trying to "ventriloquize the dead" and of spouting off "sinister piffle."
More... (18 comments)
News :: Baltimore MD : Middle East : Peace : Protest Activity : War in Iraq
McKeldin Square Vigil to Support Cindy Sheehan, or, Free Speech On the Run in Baltimore
Quick summary of the Inner Harbor Vigil to Support Cindy Sheehan, and notes on renewed questions of free speech in downtown Baltimore
More... (4 comments)
Commentary :: Activism
Baltimore Shows its Solidarity with Cindy Sheehan!
A rally in solidarity with Cindy Sheehan's Crawford, Texas's "Vigil" was held in Baltimore, MD, on August 17, 2005. Sharon Ceci of the "All Peoples Congress," said, "Sheehan has touched a nerve with people across the country." Renee Washington told me her daughter is in the US Army, and she prays that she doesn't go to Iraq. "I didn't raise her to kill anyone," she said. Activist Virginia Rodino stated, "The Iraqi War was based on a pack of lies!"
More... (5 comments)
Previous Page | 1 | ...2 | ...7 | ...12 | 17 | 18 | 19 | 20 | 21 | 22 | 23 | 24 | 25 | 26 | 27 | ...28 | ...33 | ...38 | ...43 | Next Page