Features
News :: Globalization
NAFTA and the FTAA: Local teach-in calls for participation in the mobilizations in Miami against the FTAA
In Miami on November 19-21st, the Free Trade Area of the Americas, a trade agreement to expand NAFTA to all 31 countries in the Americas and the Caribbean with the exception of Cuba, will be meeting for the first time since Quebec in 2001. Demonstrations are being called by a number of groups. In an attempt to raise awareness and garner support for those demonstrations, the Towson Anti-War Coalition held a teach-in and discussion.
Commentary :: Protest Activity
The Meaning of Critical Mass
A discussion about the meaning and tactics of Critical Mass.
More... (8 comments)
News :: Elections & Legislation : Elections & Legislation
Green Party of the United States: 2003 National Meeting

The Green Party of the United States held its 2003 National Meeting July 18-20, 2003 at the Mayflower Hotel, Washington, DC. A report posted for Indymedia by Bia Riaz. Riaz has been active with the Baltimore Greens.
More... (1 comment)
News :: Baltimore MD : Elections & Legislation : Environment : Urban Development
When Gulls Cry: Toxic Tour 2003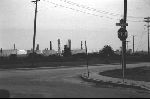 40 candidates for office in Baltimore City participated in "Toxic Tour 2003" to learn about environmental issues. The tour was organized by Senator Lisa Gladden (Democrat, District 41) and the Maryland League of Conservation Voters Education Fund.
Commentary :: Culture
Reflections on Cuba
Two Baltimore sociologists share their reflections on their third visit to Cuba.
More... (1 comment)
News :: Activism
Me and Nader Down by the School Yard
Comments from an interview with Ralph Nader plus a wrap up of the Democracy Rising event at Johns Hopkins's Shriver Hall on June 26. The event, which drew more than 1,200, was co-sponsored by the Student Labor Action Committee.
More... (1 comment)
News :: Activism
NSA DRAWS DISSENT ON JULY 4TH
July 4th, 2003: Three demonstrators protesting the NSA, our nation's most secretive spy agency located in Columbia, Maryland, were arrested and released Sisters Carol Gilbert and Ardeth Platte attended the protest and left early for fear of being detained. The two nuns await sentencing for their part in a Ploughshares action in Colorado.
More... (3 comments)
News :: Military
Military Moves on Maryland

Initial phase of Baltimore Indymedia's investigation into the military industrial complex in Maryland. Lockheed Martin, Boeing, Northrup Grumman, and other Pentagon contractors are active in the Free State.
More... (5 comments)
Previous Page | 1 | ...2 | ...22 | ...27 | ...32 | 37 | 38 | 39 | 40 | 41 | 42 | 43 | 44 | 45 | ...46 | ...51 | Next Page